Enjoying your days in Korea and Hanyang without a budget, you may find yourself wondering why your savings are running out.
The following table shows the estimated expenses near Hanyang University (Wangsimni District).
| | |
| --- | --- |
| Meal for 2 people (Inexpensive Restaurant) | 10,000 KRW |
| Domestic Beer (0.5L draught) | 4,000 KRW |
| One-way Ticket (Subway) | 1,250 KRW |
| Taxi Start (Basic Tariff) | 3,800 KRW |
| 1 Winter Jacket in a Chain Store (ZARA, H&M, žžž) | 80,000 KRW |
| 1 Pair of Nike Running Shoes (Mid-Range) | 139,000 KRW |
| 1 Bedroom Apartment Rent Per Month | 600,000 KRW |
| One cup of Americano coffee | 4,000 KRW |
Major shopping places for household/consumer goods and food
1. E-Mart Wangsimni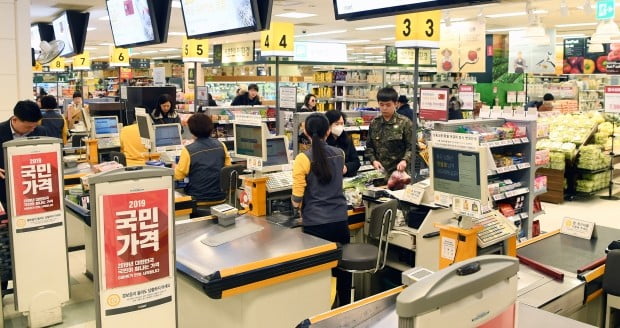 Established in 1993, E-mart is the number-one hypermarket retail company in Korea. They operate the total of 158 branch locations in Korea and one of the biggest store is right next to our university at Wangsimni subway station. You can mostly buy consumer goods and household goods every single day. The price of goods is way cheaper than that of convenient stores. They also serve instant dishes, bakery as well as fresh meat and vegetables. So you can visit here if you want to try fresh Korean cuisine.
2. Daiso Wangsimni
Daiso is a 1,000 KRW store founded in Korea. They have more than 100,000 products and goods. Many of their products are house-hold items such as kitchenware and cleaning products. Therefore, you can find most of the goods that you need when you are here in Korea such as phone charger, cable, candle, stationaries and etc.
Estimated Living Expenses in Seoul Excluding Food (1 month)
| | |
| --- | --- |
| On-campus Dormitory (Beddings Included) | 600,000 KRW |
| Clothing/ Hangers/ Laundry | N/A |
| Bathroom Supplies | 30,000 KRW |
| Sim Card/ Phone | 30,000 – 70,000 KRW |
| Books/ School Supplies | 30,000 – 60,000 KRW |
| Adapters/ Cables | 10,000 – 20,000 KRW |
| T-Money/ Transportation | 30,000 – 50,000 KRW |
| Total | 532,000 – 632,000 KRW |
*Including Food: Around 800,000 – 1,000,000 KRW
Reference (1st picture): https://blog.naver.com/joajoau/221058873459